Kids love chicken tenders? Make a healthy version of this restaurant favorite at home! This chicken recipe is oven-baked and deliciously coated with crispy whole grain breading.
Seems like you can find chicken tenders on almost every kids' menu these days. Tasty? Maybe. But most of the time, restaurant tenders are deep-fried and served with a side of deep-fried French fries. It's like a bomb of salty, greasy, beige food. Not the kind of meal that makes a body feel good.
THESE tenders are deliciously different, in all the best ways…
What Makes Chicken Tenders Healthy?
Chicken tenders CAN be healthy for your kids, but not by default. Let's take a closer look at "restaurant-style" tenders. Aside from being deep-fried, most tenders contain white-flour breading and tons of sodium.
These refined starches and oils can fill kids up quick, leaving no room for fruits, veggies, or other nutritious food groups. Deep-fried foods can even contribute to heart disease and diabetes down the road, so you're smart to avoid them when you can.
Of course, you don't have to forgo delicious chicken tenders on account of all this. You can coat your tenders in whole grain crumbs and BAKE them. And when you do, you'll get a tray of the crispiest, tastiest tenders ever. Ready to dip into a dish of ketchup or BBQ sauce.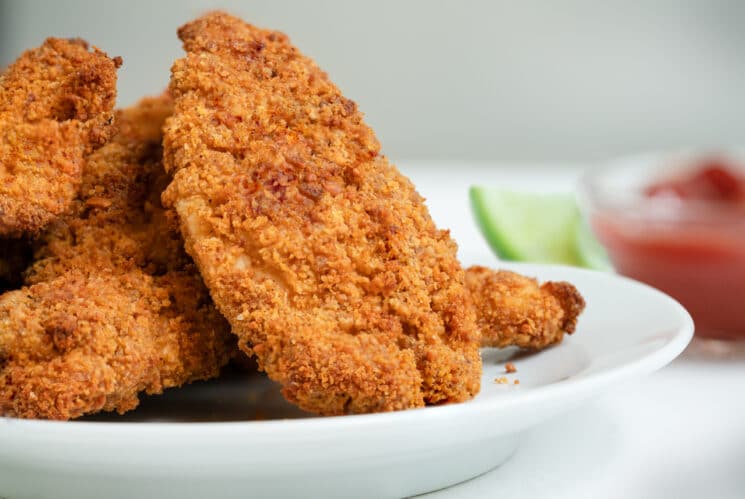 What's the Difference between Chicken Breasts and Chicken Tenders?
Chicken tenders are actually part of a chicken breast–an especially tender (hence the name, of course!) strip of meat that makes up the underside of a whole chicken breast.
When you're making this recipe at home, you'll want to look for a package of just the chicken tenders at the store–not the whole breast. That way, you'll know you're getting the thin, succulent parts of the chicken breast that cook quickly and have a great texture.
Note: chicken tenders tend to be more expensive than whole chicken breasts. But Costco, and even some supermarkets, sell chicken tenders in bulk.
What Should I Serve with These Tenders?
Chicken tenders are high in protein, and the breaded exterior provides some whole grain goodness. So when you're looking for a side dish to round out your meal, look to fruits and veggies, like this scrumptious Brown Sugar Asparagus.
We like fresh raw veggies and fruits because they're fast, easy, and colorful next to the tenders. Since you're already putting out dips for the chicken, your kids might like to dunk their veggies into ranch or BBQ sauce… or heck, even the ketchup. Let 'em be weird like that. They're eating veggies!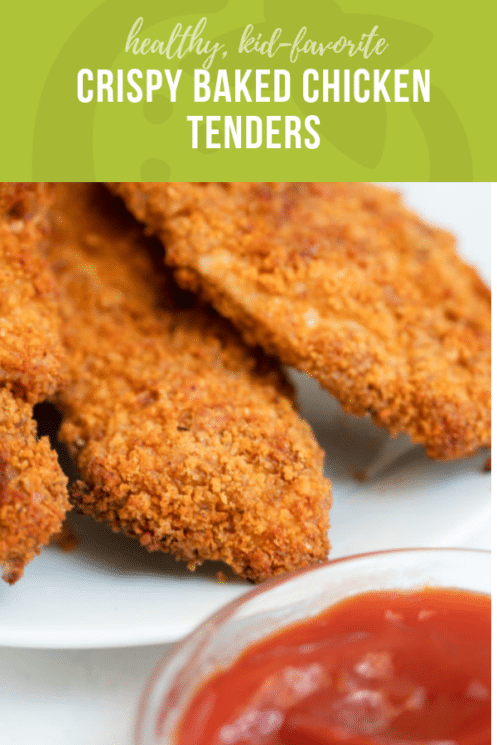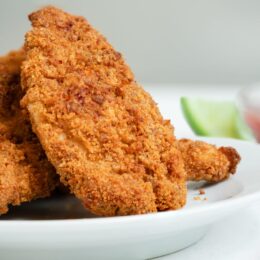 1 pound Chicken breast tenders, uncooked2 slice bread, whole wheat2 tablespoon Parmesan cheese4 tablespoon mustard, dijon1/4 tsp paprika1/4 cup flour, whole wheat2 tablespoon olive oil1/4 teaspoon salt
Preheat oven to 400 F, and place a metal roasting rack on top of a cookie sheet. Set aside.
Add the bread, Parmasan cheese, paprika, salt, and a few grinds of pepper into a blender; blend until medium crumbs form.
Drizzle olive oil over crumbs and toss to combine.
Add the flour to one wide shallow bowl. Add the mustard to a second bowl, and add the fresh bread crumb mixture to a third bowl.
Dredge the chicken tenders in the three bowls, starting with the flour, then the mustard, and finally the crumbs. (To save time, you can dredge the tenders in the flour and mustard bowls in groups of 2-3 tenders at a time. We recommend one tender in the crumb bowl at a time.)
Arrange the chicken tenders on the roasting rack. Bake 20 minutes, then flip each tender with tongs, and bake 20 minutes more, or until an instant-read thermometer in the tenders reads 170 F.
Serve hot with ketchup, barbecue sauce, or another favorite dipping sauce.